Dance Studio Owners
Covid-19 Business Impact Survey (Victoria)
Victoria's dance studio businesses are being heard.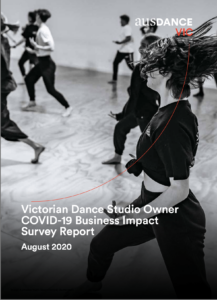 On Tuesday 18 August, representatives from Ausdance VIC met with Victorian State Government officials to present the results of the Victorian Dance Studio Owner COVID-19 Business Impact Survey and to discuss its recommendations. The meeting, which included ministerial advisors to the Hon Martin Foley (Creative Industries) and Hon Jaala Pulford (Small Business), as well as departmental heads and senior policy advisors from Creative Victoria and the Experience Economy Recovery team, was extremely productive, establishing open and constructive lines of communication which are ongoing.
There was a clear acknowledgement from government officials of the plight of dance studio owners, the urgent need for support, the problems sole traders are facing in accessing State Government business support grants, and a number of past issues raised under previous Stage 3 restrictions.
Ausdance VIC discussed the following with state government and agreed government will work with us to:
identify urgent and meaningful solutions that will support dance studio owners in crisis
ensure stage 3 restrictions better consider the needs of dance studio owners
consider other incentive schemes to revitalise the sector as we move into 2021
As previously communicated, no exemptions to Stage 4 restrictions will be made, particularly to broadcasting dance classes from studios. Stage 4 restrictions are successfully reducing the transmission of COVID-19 in the community, supporting the end of lockdown as soon as possible, and Ausdance VIC remains committed to promoting the health and safety of all in the dance sector.
We will keep you informed of all developments as they happen.
Covid-19 Sector Survey
LATEST TALLY (as of June 10th)
National Loss
$5.7 Million
income loss in total
Victoria Only
$1 Million
income loss in total
546 Workers Impacts
96 Responses so far
Ausdance National COVID-19 Impact Survey for the Dance Sector.
This survey provides an understanding of the immediate and medium-term needs of dance professionals in order to develop sector-specific responses to the impact of COVID-19.
Ausdance as a collective body is collecting state and national data to help support the sector during this difficult time. We need strong sector-specific data to inform and lobby for solutions. Ausdance is working both for members and the broader dance community and welcomes your input at this challenging time.
Please note: this survey is currently being channelled through Ausdance Queensland who have been working with professionals in the industry and with the Ausdance network as this branch was best positioned to do so at this point in time. However, the survey is national and we ask all dance professionals based in Australia to complete it.
*Before completing the survey, please read Ausdance Queensland's policy on data collection and sharing.