Latest News
With the ever changing and evolving situation on ground due to COVID-19, it can be difficult to keep abreast of all news and guidelines. Here, you can find key updates for the Dance Sector. For current information about COVID-19, restrictions and processes we recommend the following government sources. 

Coronavirus Website
– Face Masks, when to wear and exemptions
– Dance studio, class and rehearsal operation (Physical Recreation) Scroll down the page to view the detailed FAQ's
– Performances or Performance-like events (Arts and Live Performance)
– Vaccination status
– COVID Safe Workplaces
Department of Health Website
– Pandemic Order Register (replacing the Restricted Activity Directions).
Successful Advocacy Outcome : In response to combined lobbying from many peak bodies and industry groups, including Ausdance VIC, details of changes to restrictions/health orders will be published before they come into effect on the Pandemic Order Register.

Dancefloors vs Dance Studios
In the Pandemic Orders Dancefloors and Dance Studios are different activities.
Often the closing of dancefloors in hospitality and entertainment venues (eg pubs, clubs and wedding venues) attracts significant media attention and can cause concern from dance businesses, dancers, students and parents.
For current information about the operation of dance studios, classes, rehearsals and performances use the above Coronavirus website links.
Resources
Ausdance VIC has made the conscious choice to provide all resources freely available, to support our sector at this time.
Covid-19 Resources
Dance Studio Owners
Covid-19 Business Impact Survey (Victoria)
Victoria's dance studio businesses are being heard.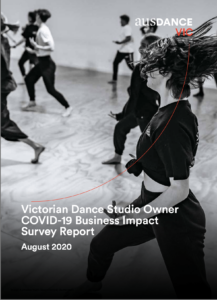 On Tuesday 18 August, representatives from Ausdance VIC met with Victorian State Government officials to present the results of the Victorian Dance Studio Owner COVID-19 Business Impact Survey and to discuss its recommendations. The meeting, which included ministerial advisors to the Hon Martin Foley (Creative Industries) and Hon Jaala Pulford (Small Business), as well as departmental heads and senior policy advisors from Creative Victoria and the Experience Economy Recovery team, was extremely productive, establishing open and constructive lines of communication which are ongoing.
Frequently Asked Questions
c

Expand All
C

Collapse All
The Industry Restart Guidelines: Physical Recreation October 2020 6. Create workforce bubbles, Page 13 advises that employers must try to limit movement between work zones (for instance, one studio and the next) unless it is not reasonable and practical.
Where a dance instructor is working for different employers across multiple premises, they must provide a written declaration to employers. Employers must ensure declarations are collected and recorded.
You can find primary source information from the Department of Health and Human Services below. You can also find access to the latest Restricted Activity Directions as a PDF or Word file:
Ausdance has developed many resources for and with Dance Studio Owners, teachers and artists. These range from a Code of Ethics to Child Safe Dance Practices, Parents Code of Behaviour and Professional business practice guides.
Some Local Governments (Councils) offer start up grants for new businesses. Visit your Council's website for details and contacts.
Speak with Business Victoria and visit their website for a range of grants and other opportunities. Speak with your accountant to ensure your business is set up in a way that enables you to apply for suitable grants or stimulus measures.
First aid is an important qualification for professional dance teachers. It relates to the Occupational Health and Safety Regulations 2017 and industry-led safe dance practices. However currently first aid certification is not mandatory for dance teachers in Victoria. The onus is on individual businesses to determine minimum qualifications from those they employ.
Ensuring Health and Safety
All dance activity leaders/teachers must take measures to ensure the health and safety of everyone attending dance sessions. These include, but are not limited to:
Clearly communicated hazard identification and risk reduction processes. Make these clear and easy to follow for participants, parents and guardians
Adapting and aligning existing face to face delivery terms and conditions such as disclaimers, waivers and/or studio sign up documents to the online environment.
When leading dance activities for adult, frail, elderly or vulnerable individuals, experienced or novice, more care must be practised.
Ensuring your first aid training and certification is up to date.
Providing safety instructions prior to and during dance activities. These will need to be adapted for your own context.
No, they cannot attend non-school providers under current restrictions*.
*Except under specific conditions as outlined on the Victorian Curriculum and Assessment Authority website. In conducting Essential Assessments onsite for Unit 3 and 4 VCE and VCAL, all providers must follow all COVID-19 related Health directions and Department of Education and Training guidelines as well as Specific controls for Essential Assessments for VCE and VCAL approved by the Department of Health and Human Services. In this document scroll down to the last row in the table for greater detail.
As the Peak Body for Dance in Victoria Ausdance VIC advocates, creates, supports and promote opportunities for the Dance sector in the state. Sporting Peak Bodies such as Fitness Australia have the pre requisite of validating registrant's qualifications in order for them to become members. Fitness Australia members must meet certain qualification criteria and professional development requirements to obtain and maintain registration.
The Dance Industry's' code of ethics and standards of safe dance practice, developed by Ausdance in consultation with the Industry, form the basis of the Dance Industry's code of practice. These components, together with your COVID Safe Plan should be sufficient to demonstrate equivalence to the Fitness Australia code of practice. Find the free Ausdance sample COVID Safe Plan, Risk Register and useful checklists here:
Alternatively, go to Business Victoria COVID safe workplace page. Depending on the stage of the restrictions, you may also be required to carry a work permit.
For proof of your membership with Ausdance VIC as your peak body please email our Membership Coordinator, Alison McIntosh-Deszcz at membership.vic@ausdance.org.au.
Primary source information from the Department of Health and Human Services is available here:
You can also go here to access the latest Restricted Activity Directions as PDF or Word files:
These are separate documents for metropolitan Melbourne and Regional Victoria.
The best place to look for information is the Coronavirus Roadmap site for Metropolitan Melbourne: or Regional Victoria: Scroll down to 'tourism, culture, entertainment, events, sport and recreation.' Available information about creative studios can be found there.
You can also download a copy of 'How we work – roadmap' for both Regional Victoria and metro Melbourne.