Latest News
With the ever changing and evolving situation on ground due to COVID-19, it can be difficult to keep abreast of all news and guidelines. Here, you can find key updates for the Dance Sector. For current information about COVID-19, restrictions and processes we recommend the following government sources. 

Coronavirus Website
– Face Masks, when to wear and exemptions
– Dance studio, class and rehearsal operation (Physical Recreation) Scroll down the page to view the detailed FAQ's
– Performances or Performance-like events (Arts and Live Performance)
– Vaccination status
– COVID Safe Workplaces
Department of Health Website
– Pandemic Order Register (replacing the Restricted Activity Directions).
Successful Advocacy Outcome : In response to combined lobbying from many peak bodies and industry groups, including Ausdance VIC, details of changes to restrictions/health orders will be published before they come into effect on the Pandemic Order Register.

Dancefloors vs Dance Studios
In the Pandemic Orders Dancefloors and Dance Studios are different activities.
Often the closing of dancefloors in hospitality and entertainment venues (eg pubs, clubs and wedding venues) attracts significant media attention and can cause concern from dance businesses, dancers, students and parents.
For current information about the operation of dance studios, classes, rehearsals and performances use the above Coronavirus website links.
Resources
Ausdance VIC has made the conscious choice to provide all resources freely available, to support our sector at this time.
Covid-19 Resources
Dance Studio Owners
Covid-19 Business Impact Survey (Victoria)
Victoria's dance studio businesses are being heard.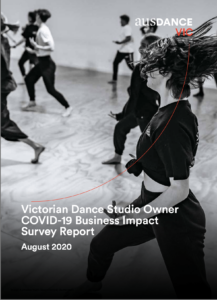 On Tuesday 18 August, representatives from Ausdance VIC met with Victorian State Government officials to present the results of the Victorian Dance Studio Owner COVID-19 Business Impact Survey and to discuss its recommendations. The meeting, which included ministerial advisors to the Hon Martin Foley (Creative Industries) and Hon Jaala Pulford (Small Business), as well as departmental heads and senior policy advisors from Creative Victoria and the Experience Economy Recovery team, was extremely productive, establishing open and constructive lines of communication which are ongoing.
Frequently Asked Questions
c

Expand All
C

Collapse All
Yes. From 5pm on 31 December 2020 you must wear a fitted face mask when you are in public indoor spaces unless you have a lawful reason not to.
There are a number of lawful excuses for not wearing a face mask in settings where a face mask is mandatory, such as illness or disability. Other reasons a person may choose not to wear a mask include where the person is:
under 12 years of age
a student at a primary school or outside school hours care
in the process of being married
a professional sportsperson when training or competing
engaged in any strenuous physical exercise
receiving a service where it is not reasonably practicable to receive that service wearing a face covering.
Wherever possible eliminate or greatly reduce your use of shared equipment.
Dancers should be encouraged to bring their own equipment and props.
For shared equipment that is not possible to eliminate the use of (like barres) this must be thoroughly cleaned between uses.